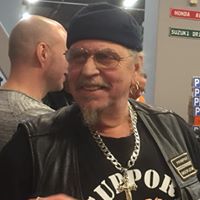 Again the Swedish Bike Expo is showing its best side and again ofcourse there is a BikerBible booth.
The Disciples MM was ofcourse there together with Roul and Birgit who is our partners in BikerChurch and in the BikerBible project. The BikerBible project however is getting close to have been given out 1 million copies of the new testament througout all of Europe! That is an awesome achievement! Praise Jesus!
Also here in Gothenborg a few thousand copies was given out for free!
We are happy to be a part of this awesome work of the Lord, that has brought a lot of people to salvation and to freedom in different areas.
Thanks also to our Swedish chapter Jonkoping for their great dedication to our ministrie, being an outstreched hand to people in need!
[Not a valid template]